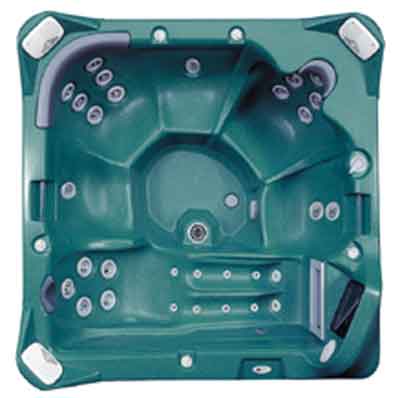 This photo shows the optional
TV and Stereo system.
Notice the optional "Volcano Jet" instead
of the four-jet foot carousel.

Some of the optional features are upgrades
to the Super Custom plumbing with 100% ozone
saturation contact chamber and 24 hour 48 frame circulation pump and 6 HP Ultimate jet pumps.

Lakeshore Specifications
Size 84"x84"x38",
Seating positions 6,
Number of water jets, 42,
Turbo Air charged water jets,
Number of air jets 18,
Total Jets 60,
Deluxe Programmable digital controls with second topside near captains chair,
Water pumps 2 each 5 HP, 2 Speed (16.5 amp)/56 frame A.O. Smith Century (Magnetek) motors,
Air pump is 2.0 HP two speed. Super quiet!
Framing 2x4 structural with 2x4 pressure treated bottom framing ABS bottom,
Insulation Full Thermo-Sealed, DAIT L-2 automatic insulation technology.
Hot seat 13 jets with neck and shoulder collar with air and turbo air.
4 large Storm foot jets in the foot well.
Second hot seat six Storm jets
Lounge 25 jets with hip, foot,leg, air and calf jets
200 Sq. Ft filtering system.
Light is two intensity with two colored lenses supplied
2.5 inch, 200 Gallons per minute, suction fittings
2 and 2.38 inch pressure lines to manifold
Primer glue and spring steel clamps on barbed fittings.
Capacity in U.S. Gallons 325
20/7/5/3 not prorated warranty.
60 Amp 1Phase. 4 wire service required.